Basma Aissaoui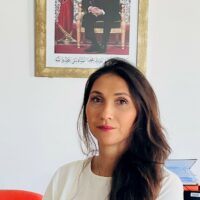 Head of Division on Mobility Planning
Ministry of Interior Morocco
Ms. Basma Aissaoui serves as Head of the Mobility Planning Division in the Directorate of Urban Mobility and Transport under the General Directorate of Local Authorities (DGCT) of Morocco's Ministry of the Interior.
Trained at the
École Nationale d'Architecture
, Ms. Aissaoui previously worked as an architect in Rabat, and in the prefectures of Casablanca and Temara, with a growing interest in urban mobility and its interaction with urban planning.
At the Ministry of the Interior and through the role of the DGCT in assisting local authorities in Morocco, Ms. Aissaoui supports urban mobility planning as an essential approach toward building a sustainable mobility ecosystem, enabling economic and urban development, social equity, and environmental protection.